The advent of the eVTOL aircraft and the urban and advanced air mobility (UAM/AAM) market is redefining local air transportation.
Fully realized, these vehicles will dramatically change how we move in urban areas and beyond.
Toray is ideally positioned to help eVTOL designers and manufacturers create cost-effective prototypes today and prepare for high-rate productions of the future.
Toray Material Portfolio for eVTOLs
STRUCTURAL MATERIALS
POWERTRAIN
Lightweight to Elevate
Our history of successful partnerships in traditional aerospace as well as emerging high-performance industrial and aviation markets provides the confidence needed from a material supplier in an industry with rapid growth and fluid market dynamics.
A broad portfolio of proven thermoset and thermoplastic materials allow choices and flexibility for applications in this nascent but evolving market. With global locations and an unmatched carbon fiber supply chain, we can ensure your chosen materials are available whenever and wherever they are needed.
From primary structures and propulsion components to seat structures, interior cabin components, access doors and battery covers, your designs have the advantage with Toray materials inside.
Proven UAM partnerships
Aerospace and automotive success
Unmatched composites material portfolio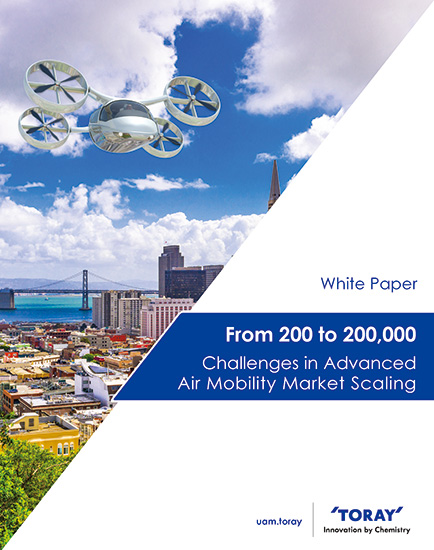 White Paper
Our white paper discusses the challenges and considerations when scaling eVTOL vehicle production from prototype to high volume manufacture.
Latest News